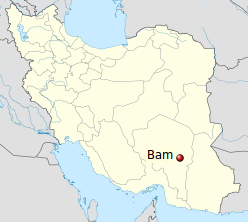 The city of Bam and its historical citadel, which has been registered by UNESCO as a global heritage; is the largest global historical monument, made of sun-dried mud bricks.
The city of Bam is situated east of Kerman Province. This city maintains a warm climate in its plains and a moderate climate in its mountainous regions. it is situated 200 kilometers away from the city of Kerman and its altitude is 1076 meters above the sea level. This city is located in a wide plain, engulfed by Kaboudi and Baarez Mountains. Despite the low rate of rainfall in this city which totals 60 millimeters per annum; it has amply underground water sources due to high rate of rainfall in the mountainous regions surrounding this city.
Bam is a historical city and a complete example of an Eastern city. In the past, this city was en route the Silk Road, and has been one of the most important centers for production of silk. This city is globally famous due to its historical nature and agricultural products, especially dates. Northeast of this city on the foothills, there is situated an ancient citadel which is in fact the ancient city of Bam. This old city is made of four sections and 38 watch towers. On the southern corner of this citadel there are four fences and on its northeastern corner there is a large fence. The main construction materials of the ancient citadel are sun-dried mud, clay, and straws. However, some parts of this citadel have also been made of stones and bricks. Bam ancient citadel is considered as one of the most important and historical military fortifications.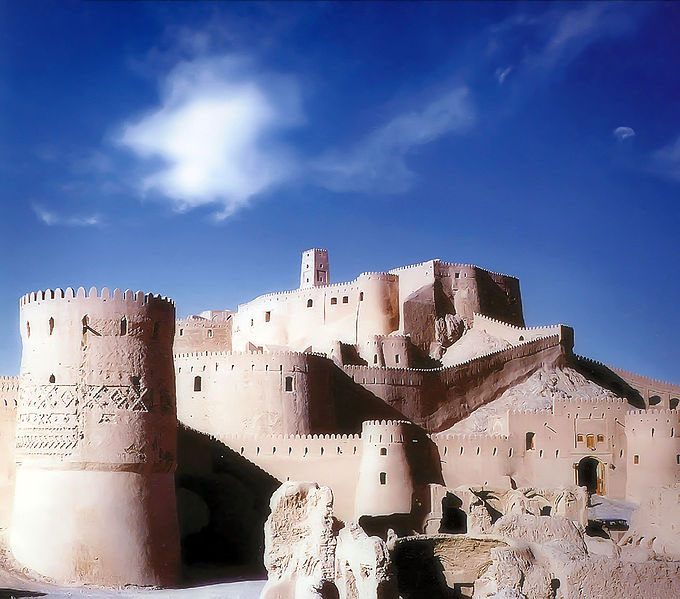 Accordance to historical books, Bam citadel dates back to 2,000 years ago. In general, by reference to the writings of Islamic era and the preliminary architectural and archeological studies on Bam's citadel it can be concluded that this citadel has been built prior to the rule of Sassanid Dynasty, and there had been several fences and gateways in its surroundings. Note that Bam's historical citadel is one of the most ancient tourist attraction sites of Iran and displays the original art of urban development in the history of this country. This building is a complete example of Iran's architectural styles. Meanwhile, throughout the course of history, Bam's citadel has been raided and renovated on several occasions. If we look at Bam's citadel and its surrounding beautiful palm groves from the highest altitude of this citadel, the grandeur of this architectural feat becomes evident, more than ever.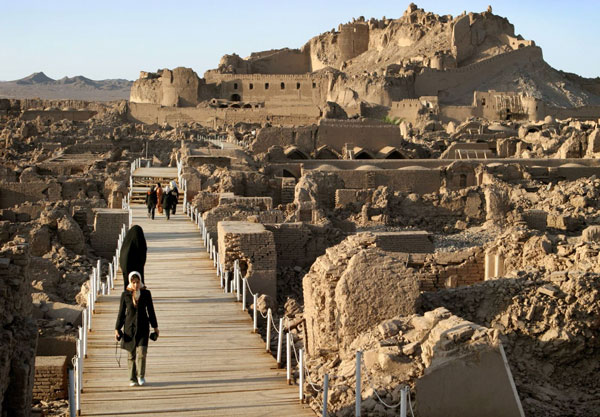 Bam's ancient citadel covers an area of almost 180,000 square meters and is surrounded by walls, six to seven meters tall, covering a length of 1815 meters. Bam's citadel is comprised of two sections. One of these sections had been the city's military command center, and the other section had been the place of residence of farmers, and had accommodated a mosque, a market, a prison, and towers.
This huge historical monument had been designed and constructed to meet the social, political, military and economic needs of its era, and the houses, markets, public centers, passageways, and military centers in each of its sections had been compatible with the needs of its residents. Possibly, agriculture was the economic mainstay of the residents of Bam Citadel. People lived in Bam's ancient citadel as of its construction until 1850 AD. The reason behind non-usage of this citadel after this date is not clear.
In the early days of 2004 AD, a huge earthquake jolted the city of Bam and its surrounding, inflicting major damages on Bam's citadel. Given that this citadel is a global cultural heritage, many countries, including Japan, Italy, and France participated in its reconstruction.
The renovation of different parts of Bam Citadel, upon the cooperation of different countries and utmost efforts of Iranian experts, has once again created an opportunity for tourists to visit this tourist attraction site and to become further familiar with Iran's rich culture.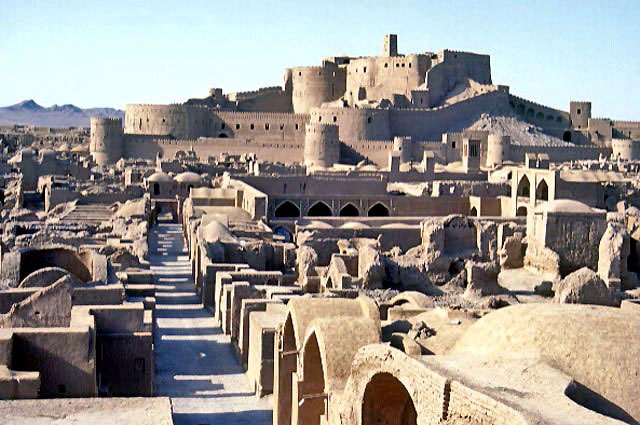 Now that you have become familiar with Bam's historical and ancient citadel, we make you familiar with the New Bam Citadel, which is a multi-purpose industrial, residential, and recreational township. Following the victory of Iran's Islamic Revolution, special attention has been paid to expansion of country's construction projects, via reliance upon the capacity and efficiency of committed domestic experts. The New Bam Citadel, as a developed and modern city, is the outcome of efforts of the Iranian experts, who strive for progress of Iran. Bam's New Citadel covers 2100 hectares, and is situated 10 kilometers east of the city of Bam in Kerman Province.
Upon wide-scale participations and investments, and efforts of domestic experts, currently the Bam New Citadel is the only especial economic zone, engaged in auto industry, and production of auto parts, in Iran. Currently, several models of autos produced in Iran are manufactured by companies present in this region. Next to these factories, New Bam Citadel has turned into a modern tourist destination with several welfare facilities and recreational locations. The buildings of this township have been constructed in an area of six hectares. This township has accommodated several residential and service sector units, which have been constructed in a traditional manner. Also development of several orchards, based on Iranian designs, has added to the beauties of this township. The New Bam Citadel is home to recreational locations, a number of large lakes, several amphitheaters, sport clubs, restaurants, immaculate hotels, pretty orchards, and coffee-shops, each of which are unique in southeastern Iran.